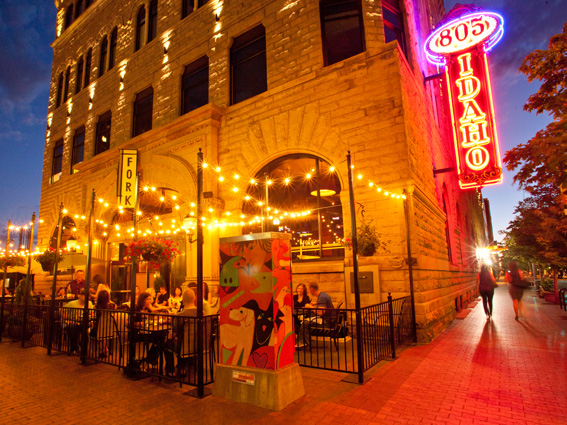 Fork Lunch & Dinner To-Go Menu
---
SHARE, SAMPLE, SAVOR
Tomato Basil Fondue & Grilled Cheese
Ballard Family white cheddar & garlic glazed Zeppole sourdough // $9.95
8th Street Tacos (5)  [GF]
Boise Fresca mini white corn tortillas topped with Chef 's daily creation, cotija cheese, cilantro, red onion & side of house-made fire roasted salsa // $11.95
Add sliced avocado // $2.00
House Chips 
Natural cut and chili-lime seasonsed, served with Fork sauce // $5.00
---
FROM THE GARDEN
The B.C.S.
Boise Chopped Salad…arugula-spring mix, Ballard Family white cheddar, dried sweet corn, balsamic tomatoes, pepitas, pearl couscous & dried black currants with our buttermilk basil-pesto dressing // $13.95
Choice of cold-smoked Alaskan salmon, grilled chicken, crispy chicken, spiced maple bacon (or grilled sirloin strip steak +$6)
Northwest Crispy Chicken Salad
Spring mix, cherry tomatoes, red onion, dried sweet corn, roasted red bell pepper, Boise Fresca crisped tortilla strips, Ballard Family Farms white cheddar, chipotle BBQ sauce & ranch dressing // $13.25
House Salad [GF] [V]
Spring mix, sliced cucumber, balsamic tomatoes, red onion, Ballard Family Farms white cheddar & choice of house-made dressing // $5.95 / $9.95
Soup for the Soul
Your server will inform you of today's creation // $4.95 / $8.95
ADD-ONS
Spiced Maple Bacon // $2
Crispy Chicken // $4
Grilled Chicken // $4
Cold Smoked Alaskan Salmon // $5
Grilled Sirloin Strip Steak (4oz) // $8
HOUSE-MADE DRESSINGS
Buttermilk Basil-Pesto, Ranch & Lemon-Mint Vinaigrette
---
KID'S MENU
All kids under 12:
Meals come with local milk, juice or a soda & side of fresh fruit, fresh veggies or scoop of local ice cream
Grilled Cheese Sammy 
Ballard Family white cheddar on Zeppole sourdough // $6.50
Spaghetti & Meatballs
A local favorite served with local bread // $7.95
Crispy Chicken Tenders
Served with ranch dipper sauce // $6.75
---
BURGER & SAMMYS
Sammys are served with natural cut chili-lime seasoned chips.
Spruce up your sammy by adding a local egg, or spiced bacon // $2 each
Upgrade from chips to salad or soup // $3
Substitute any bun or bread for Gluten Free Galaxy Bakery bun // $2
Urban Burger 
Our custom beef blend 'dragged through the garden' with Fork sauce on toasted Gaston's brioche bun. Served with natural cut chips. // $12.00
Add Spiced Maple Bacon // $2.00 
Ballard Family White Cheddar // $2.00
Cubano
Rotisserie roasted pork loin, slow roasted pulled pork carnitas, Ballard Family Farms Swiss & pickles with Chef's 'mad mustard' sauce hot pressed in a Gaston's panini bread // $11.95
Grilled Sirloin Steak Sammy
Fresh arugula, grilled red onions & garlic confit aioli on toasted Zeppole brotchen roll // $14.75
Grown Up Grilled Ham & Cheese
Ballard Family white cheddar, country ham, caramelized onions & house-made tomato jam on griddled Zeppole sourdough // $9.50
Substitute tomato-basil soup for chips // $3
---
MAIN
Artichoke Heart & Ricotta Ravioli [V]
Boise's Ferranti Fresh ravioli pillows, white wine-pesto-cream sauce, diced tomato, sunflower seeds & shaved parmesan // $16.95
Add roasted sliced chicken breast // $4
Roasted Chicken [GF]
1/2 Mary's organic chicken house-brined then slow roasted in our Woodstone vertical rotisserie. Served over brown butter mashed potatoes & pan seared brussels sprouts, red wine au jus // $18.95
Substitute grilled broccolini for mashed potatoes // $4
Sirloin Strip Steak [GF]
Served with grilled broccolini, brown butter mashed Idaho potatoes & red wine-mushroom demi-glace // $24.95
---
SWEETS
Fork's Signature Warm Butter Cake
Our age ol' recipe topped with local Cloverleaf vanilla ice cream, fresh fruit & Oregon berry coulis // $10.95
---
Over 21?…See below for our TOGO COCKTAIL options to go. 
---
TOGO COCKTAILS $9 ea
Vanilla Bean Old Fashion
Pendleton whiskey, fresh vanilla bean, simple & barrel aged bitters…
Raspberry Clove
44° North nectarine vodka, clove-rosemary simple, local wild black raspberry, lime, spices
Thyme for Bourbon
Idaho's Seven Devils bourbon, thyme & citrus purée
---
Over 21?…Don't forget to to inquire about local beer & wine options to go. 
More info by calling 208-287-1700 AND ONLINE ORDERING COMING SOON!
Credit Card and Gift Payments only (no cash) accepted at this time, please.
ALL GRATUITIES ARE GOING TO EMPLOYEE EMERGENCY RELIEF FUND.
#LoyalToLocal