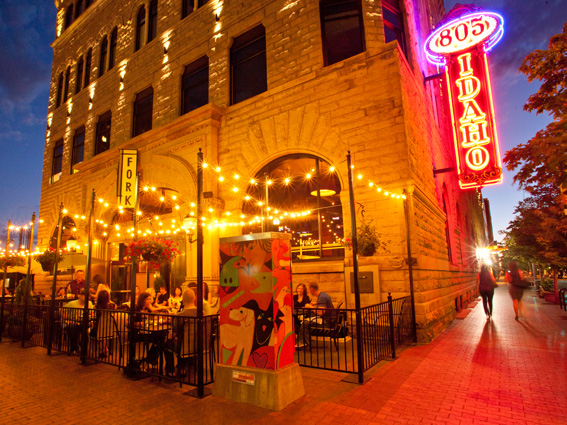 These days, the foodie and restaurant world is abuzz with buzzwords. "Local," "sustainable," and "hand-crafted" get tossed around more than a good salad.
Well, it is one thing to say it and another thing to live it. So when, after 23 years of helping start, open and running restaurants, my wife, Amanda, and I first started playing with the idea of Fork, we knew it would take a lot of effort to make these words mean something. And that's what we're trying to do, by making the ideas—the big ideas—behind these words not just marketing slogans, but at the core of how we spend our day.
It all starts with the food, of course.  That's why we've developed our "Loyal to Local" pledge, a commitment that has us sourcing many of our key ingredients from local Boise and Northwest farmers, ranchers, bakers, distillers, brewers, producers and cheese makers. The result is a menu that is as surprising as it is familiar.
Beyond the food, we've carried this approach to our beverage program and restaurant design as well. 75% of our beer, spirits and wine come from the great Northwest region and we've painstakingly restored and updated one of Boise's oldest downtown landmarks into a comfortable, relaxed dining room. Local artisans used reclaimed Idaho barn wood or recycled materials to craft elements like our tables and glasses.
That's our story. Pretty simple really…and that's how it should be. Amanda and I hope you will find the time to come experience it for yourself. We'd love to have you.
— Cameron & Amanda Lumsden
The Gift of Local
Purchase a Fork Gift Card. Give the gift of local with a gift card to your favorite restaurant. Click here to purchase a gift card now.