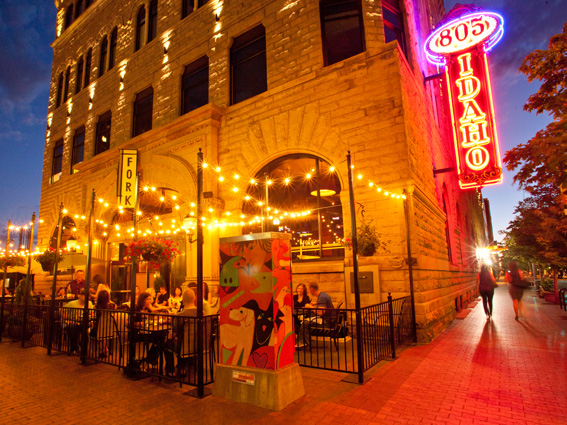 Share, Sample, Savor
Tomato Basil Fondue & Grilled Cheese

9.95
Ballard Family white cheddar & garlic glazed Zeppole sourdough
Bacon Beer Cheese Dip
9.95
Creamy cheese dip made with Boise Brewing Broad Street Blonde Ale served with Blue Sky salted bagel bites for dipping
Asparagus 'Fries'

10.95
An addictive house favorite, with ranch dipper
Crisped Brussels Sprouts

7.95
Fried then glazed with spicy gochujang & tossed with scallions and cilantro
Onion Rings

7.95
Thick cut sweet onions, panko breadcrumb crusted & served with house-made smoked jalapeño dipping sauce
Shrimp & Southern Style Creamy Grits

12.95
Sautéed garlic spiced shrimp & sliced scallions
8th Street Tacos (5)

11.95
Boise Fresca mini white corn tortillas topped with Chef 's daily creation, cotija cheese, cilantro, red onion & side of house-made fire roasted salsa
Add fresh avocado 2
Northwest Short Rib Poutine
12.75
Ballard Family garlic-herb cheese curds, crispy polenta
sticks, scallions & mushroom demi
Cast Iron Seared Lamb Lollipops

13.5
Scallions & winter citrus medley
From the Garden
Boise Chopped Salad…fresh arugula-mixed greens, Ballard Family Farms white cheddar, dried sweet corn, balsamic tomatoes, toasted pepitas, pearl couscous & dried black currants with our buttermilk basil-pesto dressing
Choice of cold-smoked Alaskan salmon, crispy chicken, roasted chicken, spiced maple bacon, grilled King salmon or grilled sirloin strip steak
House Salad


5.95 / 9.95
Organic Spring mix, sliced cucumber, tomato, red onion, Ballard Family Farms white cheddar & choice of house-made dressing
Boise Buddha Grain Bowl

12.5
Garlic scented farro, beluga lentils, avocado, pepitas
pearl couscous, pickled red onions, arugula, chilled
three minute egg & lemon-mint vinaigrette
Athena Salad


11.5
Mixed greens, spinach, Kalamata olives, asparagus, pickled onions, feta & sundried tomato vinaigrette
Northwest Crispy Chicken Salad
13.25
Organic spring mix, cherry tomatoes, red onion, dried sweet corn, roasted red bell pepper, Boise Fresca crisped tortilla strips, Ballard Family Farms white cheddar, chipotle BBQ sauce & ranch dressing
Add to any of the above salads:
Spiced Maple Bacon  2
Grilled or Crispy Chicken  4
Grilled Sirloin Steak (4oz) 8
Cold Smoked Alaskan Salmon  5
Crispy Shrimp (5)  7
Grilled King Salmon 7
House-made dressing options:
Buttermilk Basil-Pesto, Lemon-Mint Vinaigrette, Maple Vinaigrette, Ranch & Red Wine Vinaigrette
Burger & Sammys
Our custom Wagyu, ground chuck & sirloin beef blend 'dragged through the garden' & Fork sauce on Gaston's brioche bun. Served with fries.
Add Maple-Spiced Applewood Smoked Bacon − 2
Ballard Family Farms White Cheddar − 2
Substitute any bun or bread for Gluten Free Galaxy Bakery bun 2
Double cut maple-spiced bacon, avocado smash, fresh mozzarella, tomato & basil pesto on grilled Acme sourdough…BAM!
Grown Up Grilled Ham & Cheese
9.5
Ballard Family Farms white cheddar, country ham, caramelized onions & house-made heirloom tomato jam on griddled Gaston's brioche
Substitute tomato-basil soup for chips – 3
Pork Belly Banh Mi Sammy
11.95
Seared pork belly, house pickled veggies, spicy lime aioli, jalapeño & fresh cilantro on locally baked Zeppole brotchen roll
Rotisserie roasted pork loin, slow roasted pulled pork carnitas, Ballard Family Farms Swiss, pickles with Chef's 'mad mustard' sauce hot pressed in Gaston's panini bread
Grilled King Salmon Sammy
13.5
Arugula, lemon-tarragon aioli, house pickled fennel & red onion medley on toasted Zeppole brotchen roll
Sirloin Steak Sammy
14.75
Fresh arugula, grilled red onions & garlic confit aioli on toasted Zeppole brotchen roll
Sammys are served with natural cut jalapeño-lime seasoned chips.
Spruce up your sammy by adding a local egg, avocado, maples spiced applewood smoked bacon or anonion ring − 2 each
Substitute any bun or bread for Gluten Free Galaxy bun − 2
Shareable Sides
House Chips

5
Rosemary-Parmesan Idaho French Fries

5
Onion Rings

7.95
Brown Butter Mashed Idaho Potatoes

5
Main
Grilled Beluga Lentil Cake


15.75
Cumin spiced roasted carrot purée & topped with blood orange-watercress salad
Artichoke Heart & Ricotta Ravioli

15.95
Boise's Ferranti Fresh ravioli pillows, white wine-pesto-cream sauce, sunflower seeds & shaved parmesan
Add roasted sliced chicken breast – 4
Roasted Chicken

18.95
1/2 Mary's organic chicken house-brined then slow roasted in our Woodstone vertical rotisserie. Served over brown butter mashed potatoes & pan seared brussels sprouts, red wine au jus
Substitute grilled asparagus for Idaho smashers – 4
Idaho Rainbow Trout

17.95
Toasted garlic scented farro, winter citrus medley & balsamic reduction drizzle
Substitute grilled asparagus for farro 4
Pan Roasted King Salmon

23.95
Seasonal vegetable succotash & spiced cranberry reduction
Add grilled asparagus or grilled broccolini 5
Local Red Wine Braised Short Ribs
24.75
Fork tender Northwest beef, carrot purée, horseradish cream, brown butter mashed Idaho potatoes & topped with Idaho 'potato hay'
Substitute grilled asparagus for Idaho smashers – 4
Northwest Filet

29.95
Flame grilled 8oz Certified Angus Beef tenderloin served over brown butter mashed Idaho potatoes & topped with bourbon-porcini peppercorn sauce
Add Idaho smashers – 3
Sirloin Strip Steak

24.95
Served with grilled broccolini, brown butter mashed Idaho potatoes & topped with red wine-mushroom demi-glace
Cast Iron Buttermilk Fried Chicken & Cheddar Waffle
21
Balsamic infused maple syrup & local Ahaus honey-orange butter
Offered Tuesday evenings only…until they are gone
Slow Roasted BBQ Spare Ribs
23
Served with smokey baked beans & crunchy cilantro-lime coleslaw
Offered Monday evenings starting at 5pm…until they are gone
Slow Rotisserie Roasted Northwest Prime Rib
34
Double R Ranch Signature beef, house jus, creamy horseradish & rosemary-parmesan Idaho fries
Offered Friday & Saturday evenings starting at 5pm…until they are gone
Kid's Menu
Fresh Fruit & Veggies

6.95
Local produce & fun fruit…keeping it healthy
Ballard Family Farms white cheddar & mozzarella on Gaston's brioche
Spaghetti & Meatballs
7.95
A local favorite served with Acme bread
Served with ranch dipper sauce
Ballard Family Farms white cheddar
Ballard Family white cheddar in Boise Fresca flour tortilla.
Add chicken 2
All kids under 12:
Meals come with local milk, juice or a soda & side of fresh fruit, French fries, fresh veggies or scoop of local ice cream
Sweets
Fork's Signature Warm Butter Cake
10.95
Our age ol' recipe topped with local Cloverleaf vanilla ice cream, fresh fruit & Oregon berry coulis
Gluten Free Brownie Bowl

9.5
Locally baked Gluten Free Galaxy Bakery gluten free chocolate brownie, Cloverleaf chocolate ice cream scoop, house chocolate sauce, whipped cream & City Peanut Shop's spiced pecans
Salted Caramel Bread Pudding
9.5
Bread pudding with local Cloverleaf ice cream…enough said
Local Cloverleaf Ice Cream (2 scoops)

5
Choice of cowboy crunch, strawberry, chocolate or vanilla
Fork Pour Over Coffee Bar
3.5
We proudly brew each cup of our Fork custom blend coffee from Boise's own Dawson Taylor Coffee Roasters to order. Available in Regular or Decaf. Includes one free refill.
The Gift of Local
Purchase a Fork Gift Card
Give the gift of local with a gift card to your favorite restaurant. Click here to purchase a gift card now.