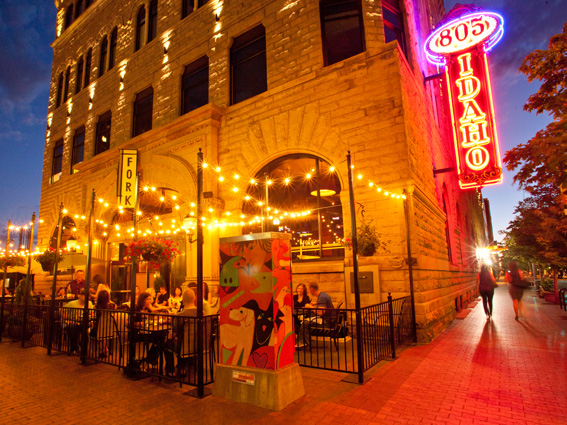 Private dining in the heart of downtown? You got it. Reserve our private dining room for your rehearsal dinner or anniversary party. What better location for a surprise birthday party or a fun departure from the "usual" company party? Watching the big game from the comfort of our private room beats chips at a buddy's house by a mile.
BOOKING & PLANNING
To book your private event at Fork, please contact the private dining coordinator, Jackie Shannon. The private dining room holds a maximum of forty guests. We can host lunch events (must end by 3:30pm or earlier), or dinner events (starting as early as 4:00pm) with seasonally adjusting minimum food and beverage expenditures.
Seasonally adjusted minimum expenditures for food and beverage are below (all plus tax):
October – May: lunch events $800, dinner events $2200.
June – September: lunch events $1500, dinner events $3200.
Depending on the size of your group, the tables can be set up as rounds, half rounds if you are having a presentation, or one long table. Once you have chosen Fork to host your event, we will have a confirmation agreement for your signature and request a credit card to secure your date and time.
Big Party? Ask us about entire restaurant buy-out options for up to 120 guests.
Planning
Once you have secured your date, we will work with you to plan every detail of your event. You may choose from one of our three course menus designed by Chef Cody Bielen featuring local farm to fork options. To complement your dining options we have a full bar which features many beers, wines and spirits from the local region, as well as a variety of non-alcoholic beverages. A final guest count is requested 48 hours prior to the event.
Cancellations
Please notify us as soon as possible if you must cancel your event with Fork. If the cancellation is made less than 72 hours prior to the event (a minimum of 7 days in advance for all December bookings), we charge a fee equal to one-half of the minimum stipulated, in your confirmation agreement. The full food and beverage minimum of the event will be charged if cancellation is made the same day as the event.
TO SECURE A PRIVATE DINING ROOM:
Please contact Jackie Shannon to establish availability by phone during business hours at (208) 287-1700 or email Jackie@BoiseFork.com.