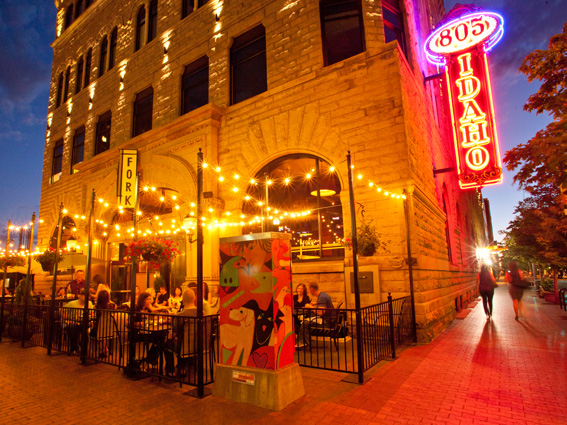 Our Commitment to Health and Safety
Thank you for your continued support of Fork and ALAVITA. In addition to our commitment of #LoyaltoLocal food and service, we are also committed to the health and safety of our staff and guests. To help achieve this, we will make sure that we are in compliance with all local and federal mandates and guidelines for public safety.
We will be adhering to the Boise Mayor's mandate for mask usage in public spaces. Masks will be required for entry to the restaurant (including patio area) and will need to be worn when not seated at your table. Please make sure to have and wear your mask, or we will be unable to take care of you.
We will also continue our updated safety and sanitation procedures:
Temperature will be taken for all staff members at the start of shift.
Gloves should be used for all ready to eat items both in the kitchen and bar.
Gloves are not a replacement for frequent and thorough handwashing. Handwashing is the preferred form of protection for all front of house staff staff members. If a front of house staff member chooses to wear gloves for a task, the gloves need to be changed and hands washed whenever changing tasks. As always, touching of face and hair needs to be avoided and hands need to be washed immediately after it does occur.
We will not have shared use items on the table (salt and pepper, water bottle, etc.). Salt and pepper and all condiments will be offered in single use servings and water will need to be refilled but the bottle not left on the table.
Tables will not be set with rollups. The proper number of rollups should be brought to the table with each party sat.
Tables and touch surfaces are regularly santitzed
We are using single use menus that will be recycled for each party and not reused. We also have a digital option for menu review to help minimize paper use. Drink menus will be offered at each table, and if accepted will be sanitized by the host after each use.
We have sanitizing stations available for staff and guest use.
We have installed additional hand sinks for staff use as well as a portable sink outside for guest and staff use.
We have increased physical distancing of tables.
We have removed bar seating for now.
Our host stand has been stationed outside to minimize congregation in enclosed areas.